Donation to Rushville Public Library: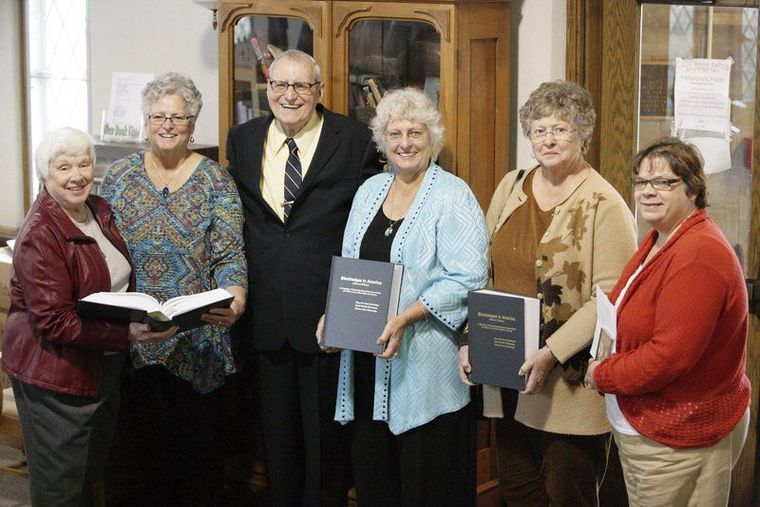 The photo above by Kate Thurston of the

Rushville Republican

shows members of the Blacklidge/ Blackledge family donating the three volume hardcopy set of "

Blackledges in America

" to the Rushville (Indiana) Public Library
on 9 Oct 2014
. The full story can be read here. Shown from left to right are:
Maril

yn Alexander Forsythe, Nancy Alexander Craig, David W. Blackledge
(of Carlisle, PA),
Judy Alexander Bechtold, Carolyn Alexander Trump and Sue Otte, library director of the Rushville Public Library.
The books will be available to the public for research only in the Indiana room of the library.
---
Index to the Second Edition

The Index to

Blackledges in America

consists of 238 pages of triple column entries, providing page numbers for the more than 7,000 unique surnames in the Second Edition, from

AAMODT

through

ZYZNOWSKI

.

To assist researchers in determining if their ancestors are included, a PDF file of the Index (the same Index file as on the CD) is provided here.

The primary surnames in the book are, of course,

BLACKLEDGE

and

BLACKLIDGE

. Additionally, there are more than 100 entries each for

CLARK, DAVIS, HALEY, HODGE, HOLIFIELD, JACKSON, JONES, MILLER, NELSON, RHYASON, SELLERS, SMITH, WALLACE

, and

WALTERS

. (

WALTERS

could be considered another primary surname, with more than 300 entries).

More than 50 entries can be found for each of these surnames:

CARTER, COOK, CORSON, FISHER, GREEN, GROVES, HALL, HARRIS, HERRINGTON, HILL, ISHEE, JAMES, JENKINS, JOHNSON, JORDAN, KEYS, KING, LEE, LEFFERTS, LEONARD, LOCKWOOD, MARTIN, McBRIDE, OWENS, PARKER, PRYOR, ROBERTS, ROGERS, TAYLOR, THOMAS, THOMPSON, VARNER, WATSON, WHEELER, WHIGHAM, WHITE, WILLIAMS, WILSON,

and

WRIGHT

.

---
Comments on the Second Edition in Hard Copy

:

"Blackledges in America", Second Edition, Hard Copy version
(ISBN 978-0-9722704-2-7)
, was published as a special
limited edition (32 sets).
Anundsen Publications, Decorah, IA, printed the pages and Roswell Bookbinding, Phoenix, AZ, completed the binding process (Navy Blue Buckram, gold stamping, 3 volumes).
The size of the Second Edition is 3,420 pages, and the hard copy publication consist of three volumes of 1,140 pages each. The publication includes 20 color pages. Comments by recipients:
I received the books yesterday and a cursory look into them is just amazing. Having the c.d. didn't really tell the whole story - how much new information we added, and I was only involved with one section. Great job. The books look great. Now, I just have to re-enforce a bookshelf to hold all this weight! Thanks for your work on this.
-
Charma Owens
Apollo Beach, Florida

Mike, just received the books. Looking forward to sitting down and enjoying them. Thanks again for all your hard work. Please pass my sincere thanks to the others involved in putting this major undertaking together. You all have done something special and should be very proud of it.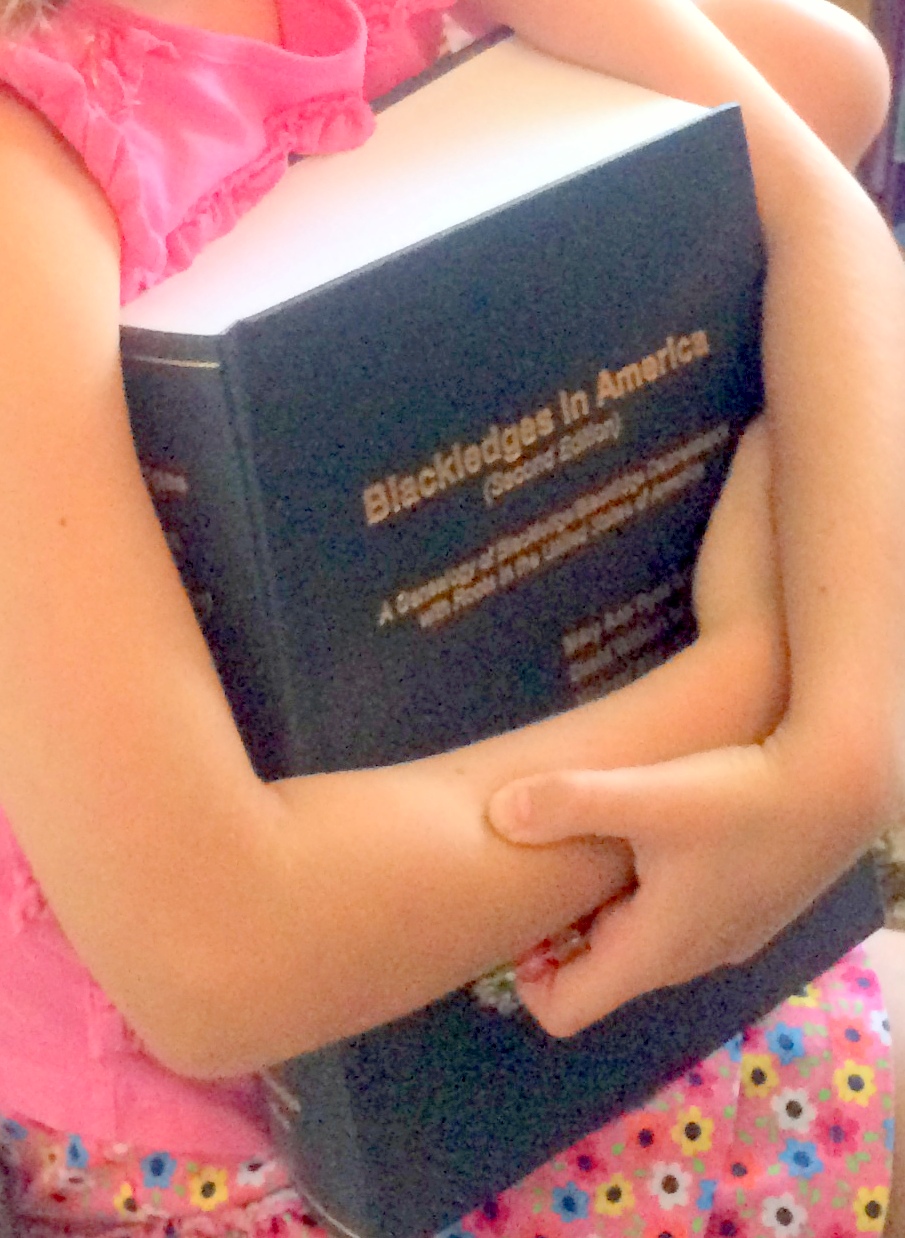 Five years ago I didn't know anything about my roots. My father was the only Blacklidge in that generation that ever married and I was his only son so I didn't even have any first cousins or any other distant relatives that I knew of other than grandparents and an aunt or two. Once I found your web site and got your first edition I was able to realize how far the Blackidge's went back. It was very eye opening and I appreciated understanding some of my geneaology. Knowing that there were Blacklidge's who accounted for many fine things in their lives was good. Thanks again,
-

Bill Blacklidge




Lynden, Washington

Got the books today, they are awesome (and HUGE). thanks for doing this for us!!!
- T. N. Taylor
Vine Grove, Kentucky
The books are gorgeous!


-
Älta Christopher
Frisco, Texas


My new budget does not take effect until October 1. Is there any way possible you could hold on to one of them for me? This is all 3 volumes for $250 + $15 = $265 for the entire set?
Sincerely,
Susan Blakeney, Genealogist
Laurel-Jones County Library System, Inc.
530 Commerce Street
Laurel, MS 39440

By November 2014, all sets of the 2nd Edition hard copy version were distributed. The 2nd Edition hard copy version is available to researchers at six libraries in the United States:
Library of Congress
Washington, D.C. (Jefferson Bldg)
Rushville Public Library
3rd and Morgan Streets, Rushville, IN (Indiana Room)
Laurel-Jones County Library
530 Commerce Street, Laurel, MS
Allen County Public Library
6600 E State Blvd, Fort Wayne, IN
Family History Library
35 NW Temple, Salt Lake City, Utah
The Newberry
60 W Walton St, Chicago, IL
Second Edition available on CD:
Eleven years in the making! Blackledge Books began shipping Blackledges in America, Second Edition (ISBN 978-0-9722704-1-0) in July 2013. This version is on CD to enhance availability. This Second Edition far surpasses the First Edition (published in Nov 2002) in number of descendants, facts and events, embedded photographs, and sheer size: the First Edition was 950 pages, and the Second Edition is 3420 pages. This large book is available as PDF files on a Compact Disc (CD), allowing zoom viewing, color images, and full text search on your home computer.
Ordering information is available on this Form (PDF file).
If you are ordering more than one CD, please indicate your discount price on the order form for multiple CDs shipped to the same address in the US:
one CD: $20 (shipping and handling included)

second and subsequent CDs: $15 for each additional (sent to same address)
---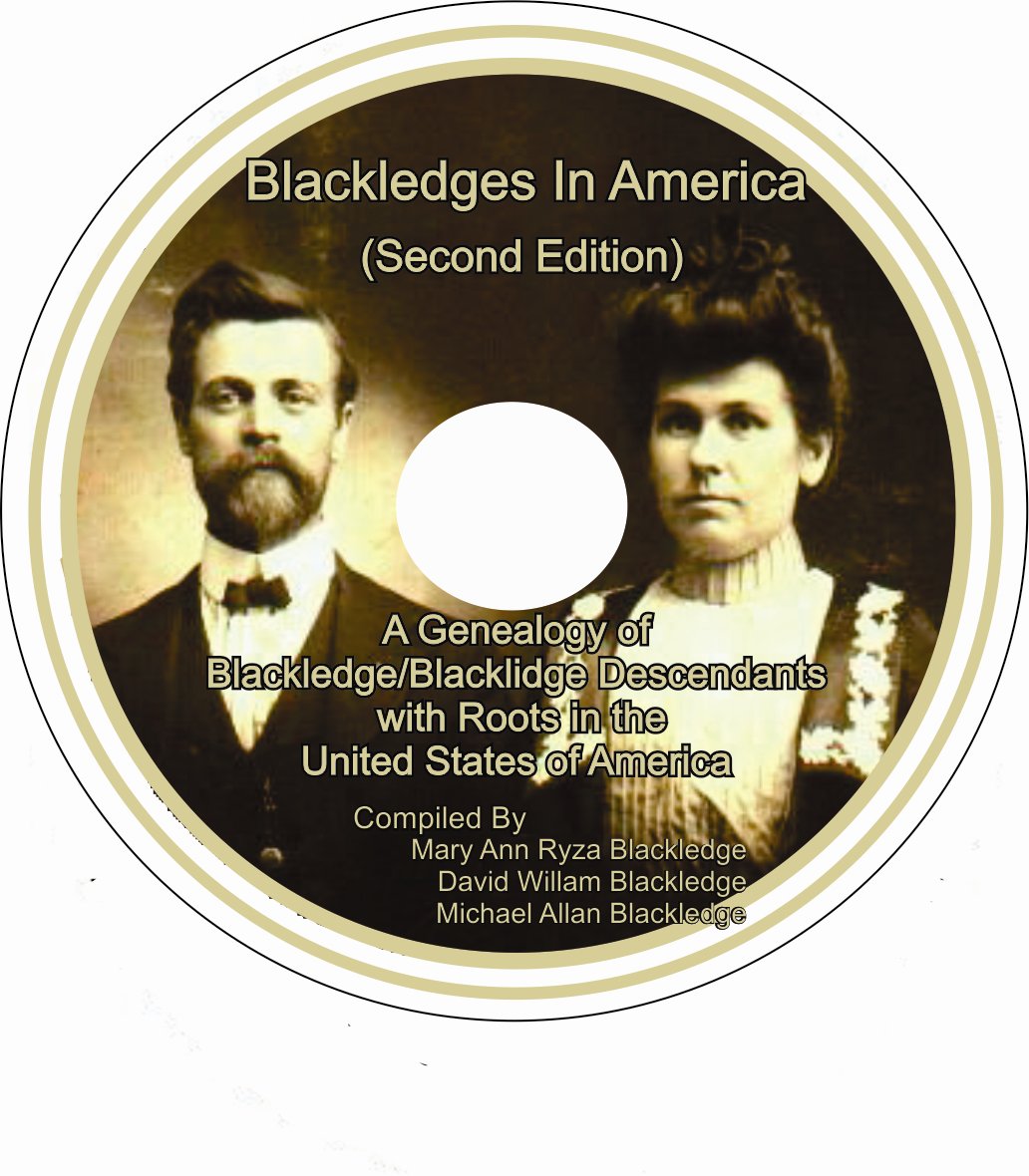 Our CD's graphic design by Sandra Schakel, formerly of Placitas, NM. Sandra also did the front and back covers of Col Barry Howard's autobiography,

"Wow! And They Even Paid Me!

" as available on Amazon.com
---

BlackledgeBook.org is our primary web site, however you can like us on
Facebook!
If you have questions, please contact the Editor:
Mike@Blackledge.com