Second Edition in Hard Copy

:

We are now taking orders for the Second Edition of "Blackledges in America" in Hard Copy format. This will be a most limited edition (about 20 sets) and thus we need to hear from you if you wish to purchase this format.
The final numbers will be based on how many copies we actually order, but our estimate at this time is that the hard copy version will cost $250 plus $15 shipping to any address in the US.
The size of the Second Edition is 3,420 pages, and the hard copy publication will consist of three volumes of over 1,100 pages each. We tried to keep costs down by limiting color pages to 20 total (unlike the CD, where color and even number of pages makes no difference in production cost.)
We need two things from you if you want a hard copy: a response by phone or email, and a check for $100 as down payment for your book set. The printer requires us to pay one-half of the total cost to begin production, and the other one-half upon completion. We will bill you for the remainder of your cost upon receipt of the books. The compilers are not making money on this, rather we are sharing the production costs we incur.
As with the CD, please make your check out to "Blackledge Books" and send it to: M. A. Blackledge, 14321 Stalgren Ct NE, Albuquerque, NM 87123-2209. We hope to have the books available for shipping about 4 weeks after starting production.
---
Second Edition on CD:
Eleven years in the making! We began shipping Blackledges in America, Second Edition (ISBN 978-0-9722704-1-0) in July 2013. This Second Edition far surpasses the First Edition (published in Nov 2002) in number of descendants, facts and events, and embedded photographs. (for example, the First Edition was 950 pages, and the Second Edition is 3300 pages!) The large book is available as PDF files on a Compact Disc (CD), allowing zoom viewing, color images, and full text search.
Ordering information is available on this Form (PDF file). Alternatively, if you are interested in obtaining this book in a (three volume) hard copy format, please indicate on your order form. (We currently have orders for 25 hard copy versions of the Second Edition and are in negotiations with our publisher to make this happen in Spring 2014).

If you are ordering more than one CD, please indicate your discount price on the order form for multiple CDs shipped to the same address in the US:
CD #1: $20 (shipping and handling included)

after CD #1: $15 for each additional (sent to same address)
---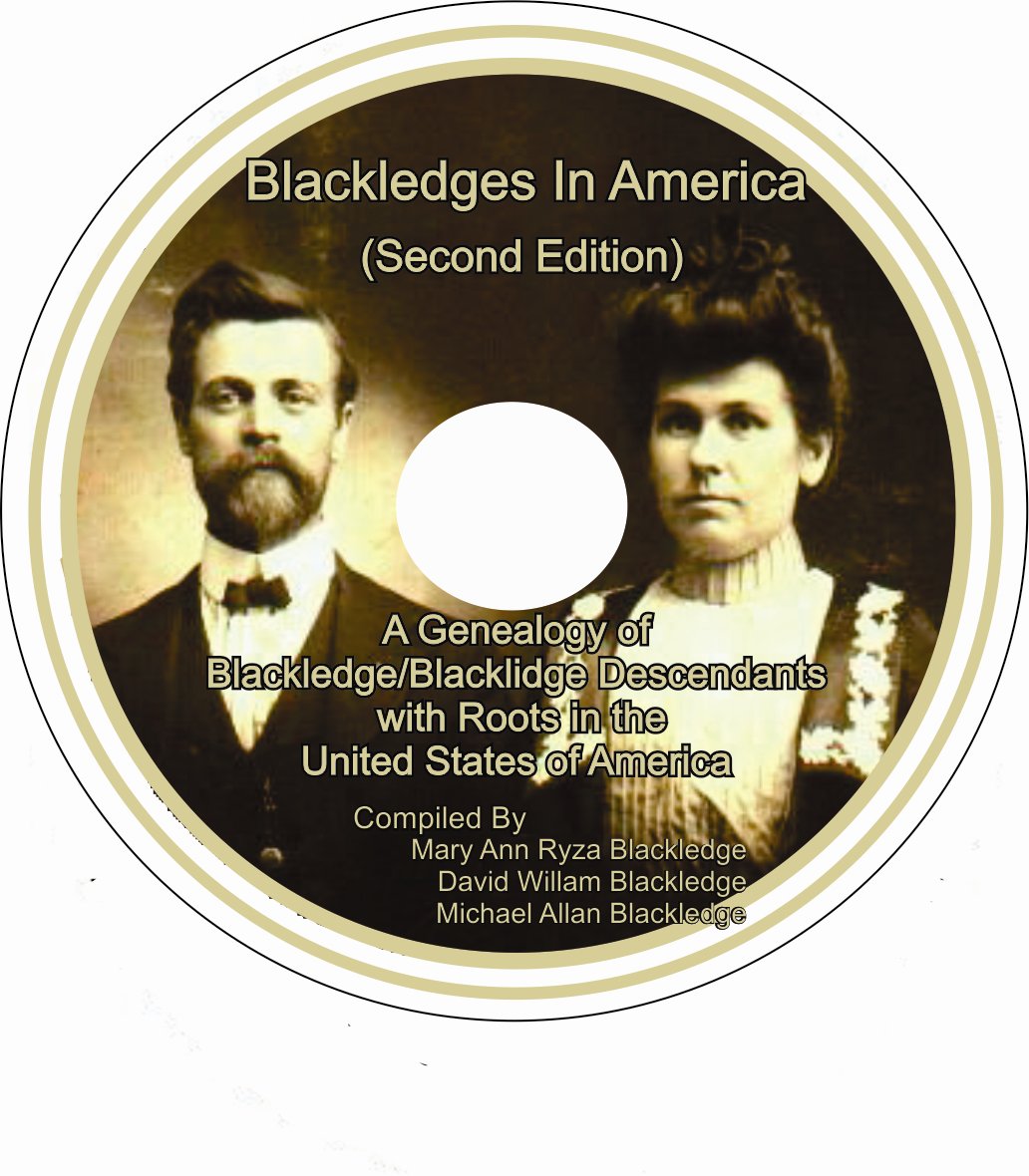 Our collaborators are impressed with the CD's graphic design, contributed by Sandra Schakel of Placitas, NM. Sandra also did the front and back covers of Col Barry Howard's autobiography,

"Wow! And They Even Paid Me!"

now available on Amazon.com
---

Yes, now you can leave messages and/or like us on
Facebook!
If you have questions, please contact the Editor:
Mike@Blackledge.com