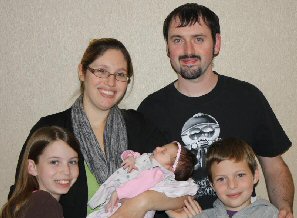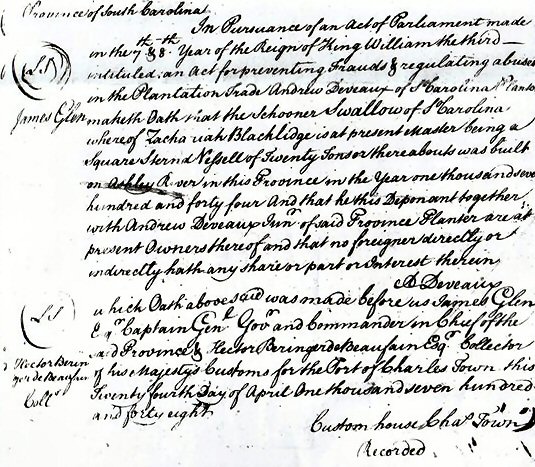 Justin Brown family

:

Left to Right:

Shannon, Anna Clarissa, baby Natalya

[5789]

, Justin Michael Brown [4751] , and Liam. Winchester, VA, Nov 2011. Shannon and Liam are Anna Clarissa's children by her previous marriage.

(photo submitted by Justin Brown)

Zachariah document of 1748

:

(at right)

copy of segment of document from the South Carolina Archives on the schooner "

Swallow

" and its Master, Zachariah Blackledge.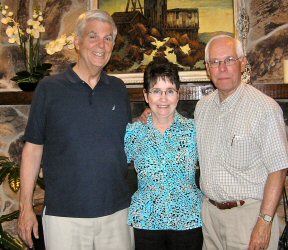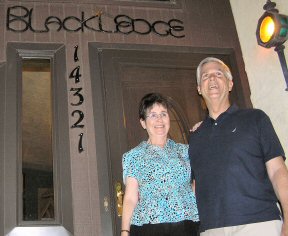 Compilers meet

: In April 2009, the Talbots traveled through Albuquerque on their way to a volunteer in Nauvoo, IL, and visited with Mike Blackledge, the editor of

Blackledges in America

. At left, Mike [5:2030] with the primary researcher for Chapter 6: Linda [6:3065] and her husband Ron Talbot. At right, Linda and Mike pose under the Blackledge nametag on Stalgren Court, Albuquerque, NM.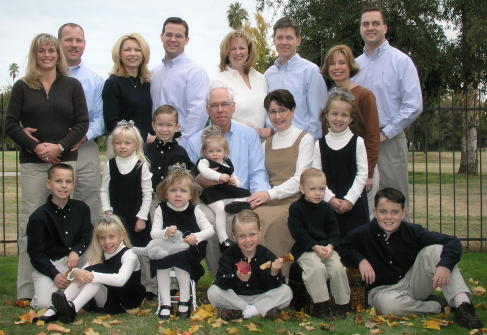 Talbot Family

: Thanksgiving, November 2003 in Bakersfield, California. <>


Front Row Left to Right

: Kacey Talbot [5781], Sydney Talbot [5779], Britton Farnsworth [5785], Brady Farnsworth [5786], Tyler Talbot [5777].

Second Row Left to Right: Cody Talbot [5780], Baylee Talbot [5782], Nathan Haines [5783], Ron Talbot holding Marissa Haines [5784], Linda Miner Talbot [3065], Hailey Talbot [5778].

Couples standing, Left to Right: Loreli and John Talbot [4748], Marci [4749] and Brad Haines, Kelly and Chris Talbot [4747], Amy [4750] and Robert Farnsworth.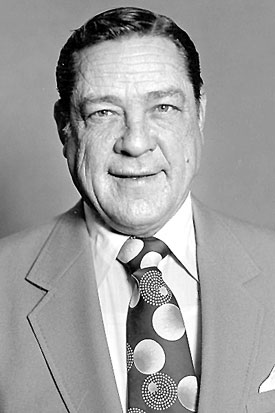 Ben Blackledge

: Ben R. Blackledge [1211] served as mayor of Kemah, TX for 28 years. This photo was with his obituary published 29 Mar 2004 in the

Galveston County Daily News

. Ben passed away on Friday, March 26, 2004. He was born on January 29, 1928, in Hattiesburg, MS to Ozzie and Maggie Sanderson Blackledge.
Photos submitted by Linda Grace Talbot [3065] in November 2011